I sat in my house one day with no money for materials, with boxes of tea in the cabinet, with a cup of tea in my hand, with a project due date pressing on my time, and a question in my mind. How can I use the things that I have in abundance to make up for the things I lack? I looked around the kitchen. Nothing was more freely abundant than the trash that I produced through my constant tea drinking habits! Drinking somewhere between 5 and 10 cups a day, I went through boxes of tea at a rate which probably only smokers understand. I had tea bags and teabag sleeves, clogging my trash in a 2 to 1 ratio with any other material in the can!
Days earlier I had heard of an artist who had focused on using all his trash in a month period to make an installation that spoke to the creative use of waste and the massive amounts a person is able to produce! I thought it was cool that he had simultaneously asked viewers to consider what materials are relevant in art while indirectly asking his audience to consider the amount of waste that they too produce in a month!
At the time I was getting into the
art of origami
and attempting to use it to modularly build large scale sculptures. I had just learned that the
western origami master
,
Robert Lang
, had developed a type of paper called "
foil paper
". I discovered that my tea bags were made of pretty much the same material, so I began to fold with them. I saved box after box of tea, and fold butterfly after butterfly. At the end of a year, I actually had more than 400 butterflies and I made an installation called "tea time migration: 365 days". It was made of origami butterflies and the title referenced the migration of the monarch butterfly, the journey from one point to another, and my tea drinking habits.
Here are some other amazing artists and their trash inspired art!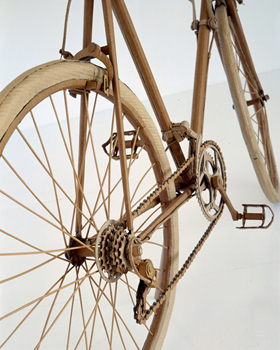 My own contribution now includes the butterflies from my previous project! I am now using them to raise awareness about repurposing, recycling and reusing materials, to clean, to reduce waste, to create, and to inspire! The butterflies will be all over Atlanta! I hope you find one! The next phase of the butterfly campaign is to sell a selected amount on etsy to raise money for a local charity! The info for this next step will be in the next segment of this 4 part article!
Thanks for reading!